Francisco & Nathalie Arjona
Eva, Sonia & Samuel
What moves us as family is to see all the people living without scope and goals in life. There is so much in Christ! When I talk to people about the burdens and needs in Spain, I do it with passion and desire... and also want to find commitment. We as family try to be happy in God!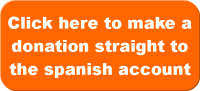 Francis is the Spanish field national Director of ECM Spain , pastor of the Church in Pozoblanco, President of the "Buen Samaritano" Drug Rehabilitation Centre, and national coordinator of the church planting movement in Spain called M4.
Nathalie is the executive secretary of the Good Samaritan Association, she is part of the MCE Iberoamerica council and its financial administrator, she also serves whithin the local church in different ministries (social help, couples' dinners, Sunday school and music).
If you would like to receive our regular update & news letter,please get in touch with us by sending us an e-mail at: francis.arjona@ecmi.org or nathalie.arjona@ecmi.org
Thank you!!
https://www.facebook.com/m4spain/
http://www.m4europe.com/
http://www.buensam.org