From Kiev to Zagrev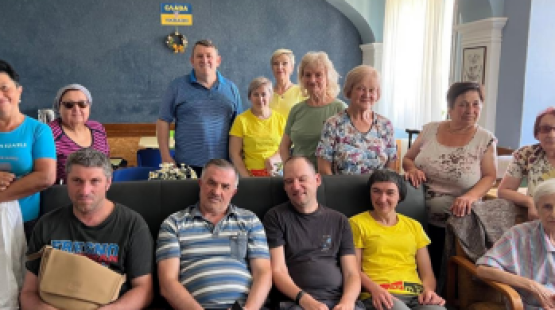 When we moved from Kiev to Zagreb 6 years ago, we had no idea what an adventure it would be. These last months I am involved in ministry to the Ukrainian refugees. Let me share two stories…
"Dear brothers and sisters, greetings from Croatia. This month Ira and I are celebrating our 6th year of life and ministry in Croatia. When we moved from Kiev to Zagreb, we had no idea what an adventure it would be. Lots of questions and confusions sometimes were in my heart and head, but there were a few things that I was certain of. God has a plan for our lives and I have faithful friends who are praying and willing to help us. Thank you for being together with us on this journey.
These last months, here in Croatia, I am involved in ministry to the Ukrainian refugees. In February and March, I traveled regularly to the Ukrainian border and served as a driver to bring moms and kids to the safe place in Croatia. Let me share two stories…
Young Christian family S., M., Da. (3) and Di. (1). I have known S. since a few years ago, during one of my visits in Lviv, when S. came up to me and told me "I study at the Lviv Seminary, I want to be a missionary. Could you be my mission mentor? he asked. "Sure, let's talk every three weeks about ministry, challenges of life, families…" S., M. and kids were planning their first missionary vision trip for April 2022. However, in February war broke up, and S. called me: "Could you please come to the border and get M. and kids to Croatia?". So I did, because due to the martial law he cannot leave Ukraine. We are grateful for the missionary friends who hosted M. and kids at their home, and I especially thank GOD for bringing people who helped to provide funds for the laptop, so M. could do some freelance work while the kids are asleep. Last Sunday morning, 3year old Da. told me, "Uncle Kostya (all Ukrainian kids call me uncle Kostya) I am a grown up now, I am not a little boy anymore (pause) I sleep without diapers now!" What a victory! We all are praying that S. will be able to come to Croatia soon.
In the picture, a group of people with special needs traveled to Croatia from Ukraine in the beginning of March. They are from different places in Ukraine but were somewhat connected by the ministry of a Baptist church in Rivne. They have been together in summer camps and some other activities. God brought them to Croatia, one hour south of Zagreb; some of them are saved, some are not yet. A Ukrainian pastor called me and told me that the Croatian government was providing food and shelter for this group, but they needed spiritual food and care for their souls as well. So every Wednesday morning I travel to their Center where we have a Bible study together, time for prayer, and lunch after that. Also, every Sunday night I bring them to a church service at the Croatian Baptist church in Karlovac. It is such a blessing to see God's family serving together for HIS glory.
Thank you very much, dear brothers and sisters for your prayers and support!
Kostya and Ira Bakanov."