"The aid was a significant relief for our teams..."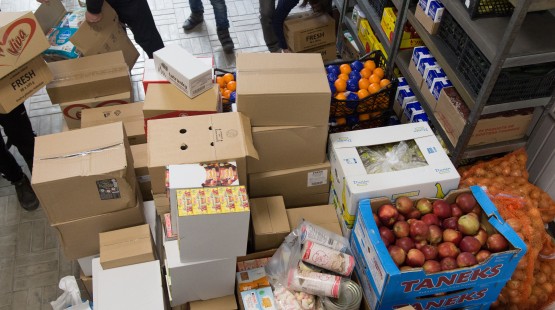 A week ago, an ECM bus with supplies came into Ukraine. Read the words of our workers there as they received the goods we sent with your help.
"March 19. Lviv. The humanitarian aid that the ECMI team had bought, gathered, and engaged partners to deliver to Lviv, arrived. Our brothers from Slovakia brought food, hygienic supplies, and ten matresses in the 50 seat bus to take 48 refugees on the board to Poland and Slovakia. The aid was a significant relief for our teams in Lviv as it's getting more challenging to make bulk purchases in the stores. They sell only a limited amount of food like grain, pasta, sugar on those rare occasions when they have them. The beverage drinks (tea and coffee) sections are empty in most of the stores.
It's been almost four weeks since this nightmare began. Lviv has become a humanitarian hub by housing more than 200 thousand refugees. We all realize that our city has its logistics limits. So the help provided by the ECM family, thanks to your generous donation, is precious. At our facility, we host between 30 to 50 refugees daily. We also have shared the goods arrived with another church where other ECM workers serve refugees.
March 22. We loaded a freight van to Kharkiv. Several days before that, to Zhytomyr city. Our brothers in Christ from Kharkiv shared that people stay in underground shelters for several days there. They sometimes go out to get some bread delivered to the city, waiting in queues or lines for hours, often under bombs. None of us could ever imagine that people in Mariupol would ever have to collect and drink water out from the radiators. These brave men and the local churches provide food to people in Kharkiv by bringing food packages to those in need.
Please, know that we treasure your care, friendship, and love so deeply! And we thank you on behalf of many people here in Ukraine for your big hearts full of love, that is pouring out in your fervent prayers and financial support!"
🧡 Pray for the refugees in Ukraine and for they to receive all the supplies they need.