Serving the children in the war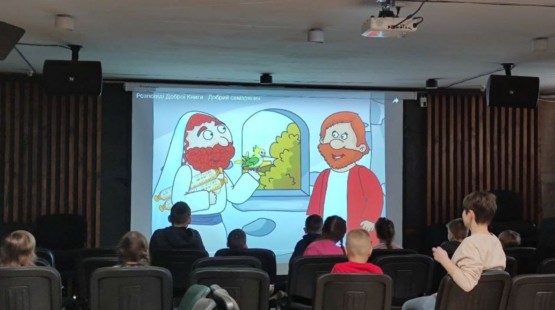 🧡 Read here an update from an ECMer in Ukraine. She has a heart for children and, in the midst of the war, she keeps working to take the gospel and a message of hope to the little ones.
"I remember so well that on February 24, I was getting ready to leave my home for work when I heard an announcement that Russian troops had entered Ukraine and that the war had begun. I couldn't believe that all was real. I didn't want to accept it. But as soon as you hear the air raid siren, you realize that the new reality is here. When it is your first time, you grab your backpack and have no idea where to run. You are scared. And these words can't express all that you feel in full range. I will remember that moment for the rest of my life.
It has been three weeks since I came to stay at our ministry centre building. In spite of the fear and stress, I clearly understand that I am here to help others, those in need.
I am here to take care of refugees who have left, and many who lost their homes. We all believe that tomorrow will come, so we serve where we are, in the way we can now.
When the air-raid siren goes off, many people from the neighborhood blocks and houses come to our place. Some days (but primarily nights), it goes off up to 4 times a day and sometimes lasts for several hours. In the basement of the NH facility, we provide the bomb shelter. In this way, we try to serve our community, talk to people, pray with them, and offer them the Christian literature to read.
One of the workers in our team came up with an idea to hold "Bible Camp"-like meetings for children. For two weeks already, we have gathered children from the neighborhood, and the many children who stay with us at our facility as refugees. Every day we have 12-20 children coming. Children watch Bible stories and movies, play games, have art and crafts lessons. The children come to the meetings so joyfully, and many of them half an hour earlier. 😊 Some of the parents spend their time with us too. They all appreciate our initiative so much as they realize that we all have to do something to protect our children from the psychological and emotional traumas of war.
Friends, my heart is full of appreciation for everything you continue to do for the New Hope Ukraine and me personally during this challenging time. It is so heartbreaking to see and hear of the children dying, the people being tortured and killed, the buildings and whole cities being hit and ruined, the people's lives being changed forever.
I know that you pray for Ukraine. We can feel it every day and testify that God is at work by protecting and helping us here in complex situations. He promised to be here for us always. And He keeps His word. May God guard and save you and all of us. We pray for our nation to turn to God and God's mercy for them.
May God be with you and protect you! Thank you so much for everything!"
🙏🏼 Pray with us on Tuesdays and Saturdays