Praise God for his provision!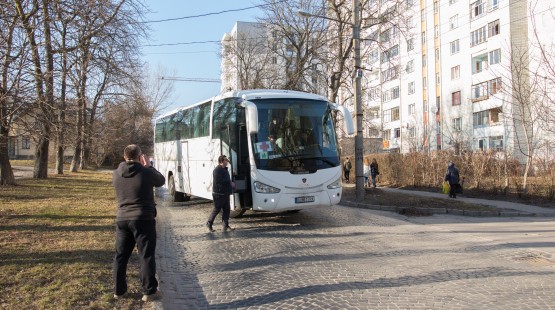 Read the Story of how we have seen God at work these last weeks, providing and making a way for us to be able to bring supplies into Ukraine.
Given the difficulties to buy food and basic products in Ukraine, our crisis management team worked for weeks to bring the resources our team in Ukraine needed to help the refugees there. On its way back, the transport would also drive refugees out of the country.
When everything was ready for a bus to go from Poland into Ukraine, a last-minute change with the bus provider meant they would not allow us to bring a vehicle into Ukraine. What a disappointment! However, we prayed and in less than 24 hours God brought in a new contact and another bus in Slovakia!
However, the new arrangement meant we needed to find a place for the refugees that would come into Slovakia, and quickly! But God was already at work. Before we could ask anyone, we received an email about a place in Slovakia that could host big groups of refugees. They did not know we were just looking for that, but God knew our needs and He provided.
Last weekend, these plans finally came true. On Saturday morning, a bus with €5,500 worth of supplies (4 tons of mostly food, plus some mattresses and basic products), left Slovakia and arrived in Ukraine, where our ECM team and a group of volunteers unloaded and received the materials. The supplies went to several places where our team and their network are hosting refugees.
The bus returned with 48 refugees and crossed the Polish border, where a large group of them were to stay. The rest of them arrived later in Slovakia, where they could rest in a church until they would leave for their longer-term housing in Slovakia.
We want to thank you for your donations and your prayers, that have made it possible for us to see God moving in wonderful ways, opening all doors so that we could bring these supplies into Ukraine. We are already working on sending the next bus of supplies, planned for next Saturday. Please pray for everything to go smoothly, and for the supplies to get there safely!
You can contribute to the purchase of the supplies here
https://www.ecmi.org/en/project-detailpage/9d8fca04-2b9a-4ad0-9ff9-27bda4cbf01e