ECM Ireland Operations Manager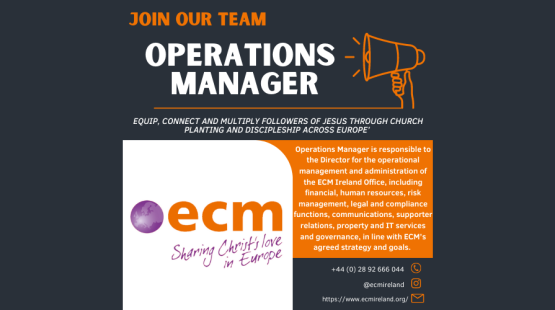 Thursday 04 November 2021

10:00
An exciting opportunity has arisen for a highly organised, enthusiastic and reliable part-time Operations Manager to join the European Christian Mission Ireland staff team.
ECM Ireland's vision is to 'equip, connect and multiply followers of Jesus through church planting and discipleship across Europe' and we are looking for an Operations Manager who can help us achieve that vision by overseeing the management of the ECM Ireland office.

The Operations Manager is responsible to the Director for the operational management of the ECM Ireland Office, including financial, human resources, risk management, legal and compliance functions, communications, supporter relations, property and IT services and governance, in line with ECM's agreed strategy and goals.
There is an occupational requirement for the post-holder to be a committed evangelical Christian who is in full agreement with the ECM Ireland Doctrinal Statement and the vision, purpose and values of ECM Ireland.
This is a permanent post with a six-month probationary period and is 16 hours per week.
If you would like more information, or an informal chat about the role, please contact the ECM Ireland Director, Lindsay Moorhead, at lindsay.moorhead@ecmi.org
To apply, please send your CV, along with a covering letter (max. 300 words), detailing how you fulfil the requirements of this role (as outlined in the person specification) by email to Lindsay Moorhead at Lindsay.moorhead@ecmi.org
To find out more about this role please download the application pack below.
Only candidates who are eligible to be employed in the UK should apply for this role.
Closing date: 5.00pm Friday 3rd December 2021
Linked documents

| | Title | Filesize | MIME-type | |
| --- | --- | --- | --- | --- |
| | ECM Ireland Operations Manager Application Pack [5466].pdf | 302.2 kB | application/pdf | |