ECM Ireland Administrator (Maternity Cover) Job Advertisement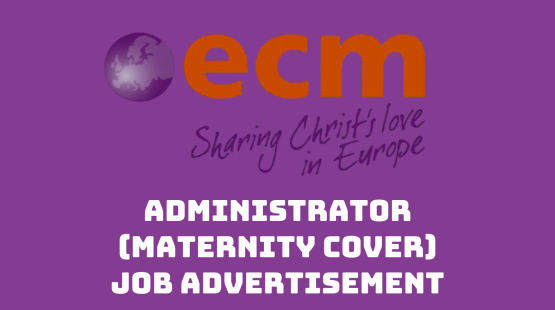 Wednesday 02 June 2021

15:26
An exciting opportunity has arisen for a highly organised, enthusiastic and reliable part-time Administrator (maternity cover) to join the European Christian Mission Ireland staff team.
ECM Ireland's vision is to 'equip, connect and multiply followers of Jesus through church planting and discipleship across Europe' and we need an Administrator who can help us achieve that vision by providing assistance and support to the ECM Ireland office, and to oversee the development of ECM Ireland's profile, so that the aims and objectives of ECM Ireland are met in a timely manner.
The postholder will preferably have a professional qualification in Administration or equivalent, have previous office and administrative experience, can operate efficient administrative systems, and be competent in writing and editing.
This role will need someone who has the ability to work on their own initiative, is reliable, has a high level of organisational and administrative skills with excellent attention to detail, can work independently and as part of a team and can meet deadlines in a timely manner.
There is an occupational requirement for the post-holder to be a committed evangelical Christian who is in full agreement with the ECM Ireland Statement of Faith and the vision, purpose and values of ECM Ireland.
This is a post to cover a maternity leave period and is 16 hours per week.
Contact Details:
You can download the job description and person specification. If you would like more information, or an informal chat about the role, please contact the ECM Ireland Director, Lindsay Moorhead, at lindsay.moorhead@ecmi.org
To apply, please send your CV, along with a covering letter (max. 300 words), detailing how you fulfil the particular requirements of this role (as outlined in the person specification) by email to Lindsay Moorhead at lindsay.moorhead@ecmi.org
Only candidates who are eligible to be employed in the UK should apply for this role.
Closing date: 12.00 noon on Friday 2nd July 2021