Refugee Camp Fire in Greece – PRAY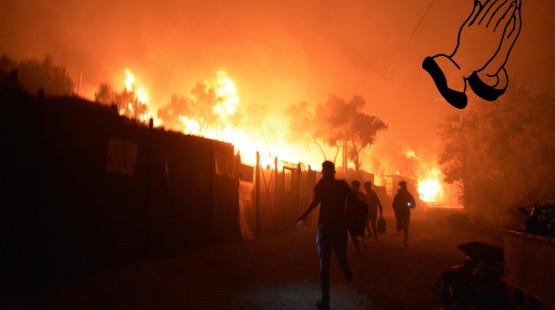 Friday 18 September 2020

10:19
Shelter for the Unsheltered
On 8th September, a fire ravaged through Moria Refugee Camp displacing over 12,000 people and leaving them without shelter, clothes and food.
Please join us in praying for all those who had to flee from the fire on the island of Lesbos in Greece. Peter and Anna Crawford, ECM Ireland's missionaries in Greece, have shared some of the following prayer requests:
God's mercy on these people, who have already suffered so much.
More positive attitudes from the Greek residents of the island whose daily lives have already been impacted by the influx of refugees.
For the Greek and European authorities, that more effective action may be taken to resolve the root of the problem.
For Greek Christians, churches and agencies who are stepping up efforts to alleviate the suffering, that God would give them wisdom, guidance and protection as they show compassion to those in need.
For people to give financially to help provide the basic necessities these refugees need, as well as replace the infrastructure.
For those who are still on the streets and for those settling into a new temporary camp.
That many people would come to know Jesus during this time.